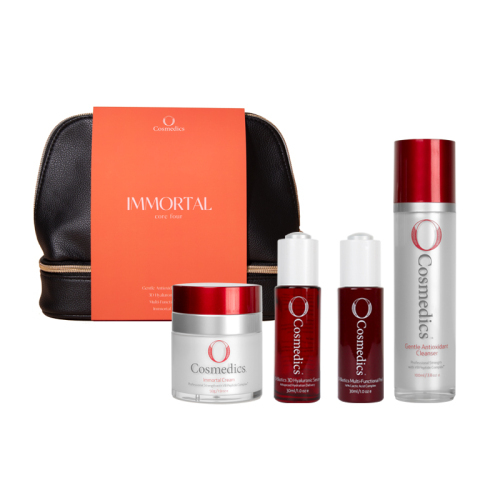 Core 4 Immortal Bag -PRE ORDER ONLY
PRE ORDER ONLY
BUY Gentle Antioxidant Cleanser, your choice of Hydrator and 3D Hyaluronic Serum AND GET Multi-Functional Peel and an O Cosmedics Travel Bag (valued at RRP $99) FREE Save $164
IMMORTAL: Gentle Antioxidant Cleanser, Immortal Cream, Multi-Functional Peel, 3D Hyaluronic Serum
Out of Stock
Gentle Antioxidant Cleanser
A gentle daily facial cleanser strengthened with powerful antioxidants. Suitable for all skin types including reactive and rosacea skins post peel laser and surgery cleansing. Fortified with anti-pollutant boosters that trap and remove dirt and excess sebum. V8 Peptide Complex® leaves the skin super hydrated and refreshed. A daily must have! Perfect for all skin types including the most compromised.
How to use : Splash face with warm water, apply a small amount of cleanser to fingertips and massage into a lather on face and throat. Remove with a face cloth and then rinse thoroughly with warm water. A second cleanse is recommended if you are wearing makeup. Ideal eye makeup remover.
3D Hyaluronic Serum
Rockstar product! A multi-dimensional approach to skin hydration with Sodium Hyaluronate Crosspolymer Complex (derived from sugar) and an advanced skin delivery for enhanced penetration. Supports instant and long-term skin hydration, skin health and skin youth across all ages and skin concerns.
How to use: For best results apply liberally on clean, dry skin. Could be used on the face, around the eyes, neck and decolletage after waterlike serums and before gels, lotions, creams and oils.
Multi- Functional Peel (FREE PRODUCT)
Peel to reveal! A professional grade at-home peel containing 14% biomimetic Lactic Acid Complex to gently exfoliate skin. This multi-tasking peel will hydrate, purify and refine the skin, support product penetration, reduce fine lines and reveal a brighter, more even-tone for smoother, younger looking skin.
How to use: For best results apply to clean, dry skin in a fine layer and massage in until absorbed (do not wash off). Once absorbed use your regular O Cosmedics serums and hydrators over the top. Use O Cosmedics SPF daily, no excuses!
Immortal Cream
Cutting edge super-antioxidants and potent concentrations of V8 Peptide Complex® make this age defying cream a five star anti-aging treatment. Fortified with mega doses of Vitamin C it works to awaken and hydrate the skin assist relaxation of muscles and help to reverse and diminish the signs of aging whilst providing a feeling of instant lift. Never ending youth! ;Perfect for assisting line and wrinkle relaxation age prevention super hydration youth and radiance.
How to use : Apply 1-2 pumps around eyes, face and throat morning and/or evening.