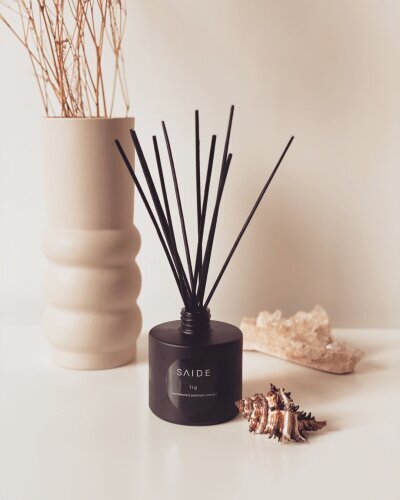 Reed Diffuser -Tangerine & Guava
TANGERINE + GUAVA A perfect fragrance to freshen up any room - tangerine peel, geranium + fresh blossoms, we promise you won't regret it!
Place our fragranced reed diffusers around your home to keep it smelling amazing everyday!
Perfect for every room in the house; we particulary love them in our bathrooms, bedrooms and lounge. Just flip the reeds whenever you want to enhance the fragrance/oils + enjoy.
200ml
Glass Amber Jar
Black bottle neck accessory included
100% Natural Essential oils or Triple Scented Australian Fragrance
Reeds: Natural
Diffuse time: up to 6 months

Packaging: SAIDE calico bag
*Instructions for Reed diffusers: Unscrew black ring, carefully remove the plastic stopper, replace black ring and place the reeds in the bottle carefully. Allow the reeds to submerge and absorb the diffuser oils. Rotate the reeds once a week or when required to enhance the frragranced space.
**Diffuser refills bottles available; less waste, more eco-friendly and saves you money!