Christmas Gift Vouchers
This Christmas we are offering Vouchers that will make a great gift for someone special.
Browse the options below and click Buy Now to purchase the package that will make the perfect gift.
Voucher Conditions
This Gift Voucher: is non-refundable and not redeemable for cash; will not be replaced and will become void if lost, stolen, altered or defaced. This voucher is transferable. Prices are subject to change, 24 hours notice is required for change of appointment. No-shows and cancellations within 24 hours will have cost of service deducted from the Gift Voucher value.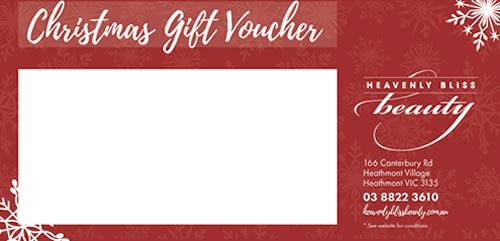 Christmas Voucher for Any Amount
Nominate the amount you want to gift your special someone with our Special Chirstmas Gift Voucher
Buy Now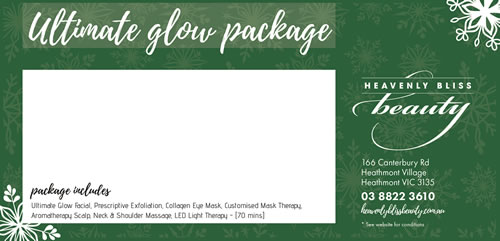 Ultimate Glow Package
$179.00 (70 mins) - Includes:
Ultimate Glow Facial
Prescriptive Exfoliation
Collagen Eye Mask
Customed Mask Therapy
Aromatherapy Scalp, Neck & Shoulder Massage
LED Light Therapy
Buy Now
Gift Voucher
Heavenly Bliss Beauty vouchers are great for that person you never know what to buy!! We offer a range of services to cater to anyones needs. All you need to do is enter the Name of the person you wish to give this voucher to and a pdf of the voucher with the voucher number will be emailed to you.