Facials and Facial Treatments at our Heathmont Salon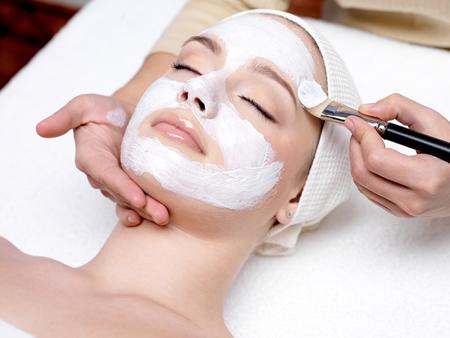 At Heavenly Bliss we offer a full range of facials to suit your needs including Microdermabrasion, LED Phototherapy, Skin Needling and Skin Peels.
Facial Options
Facial Treatments - $155
Using the latest in professional strength ingredients and technology, as well as the healing power of hands-on facial massage, each of these facials is designed to address and correct your specific skin concerns. This is something you NEED to experience.
Corrective Spa Facial
A spa twist for the ultimate indulgence! A results driven facial offering you super hydration and rebalancing the skin.Using peptides and anto ageing ingrediants to leave your skin super fresh and glowing.
Age Reversal Facial
This amazing, anti-aging facial firms, smooths and nourishes your skin. The use of effective vitamins and hydroxy acid exfoliation ensures your skin is being fully regenerated and energised.
Moisture Intense Facial
Fully hydrate, protect and plump your skin with this lipid rich facial that will also increase your skin's elasticity and suppleness.
Skin Brightening Facial
Does your skin feel dull and lifeless? Enjoy a more radiant, healthy skin by reducing the appearance of sun and age spots. Professional strength exfoliants will remove dry skin buildup while botanical extracts will brighten your complexion.
Skin Soothing Facial
Calm, strengthen and reduce the appearance of redness in your skin with this ultra-soothing facial. It will instantly settle, repair and restore your sensitive skin.
Clearing Facial
Is your skin feeling congested? Your problem skin will be deeply cleansed and purified without over drying or stripping the skin of its natural protective coating. You will look and feel totally refreshed and free of blocked pores and impurities.
Microdermabrasion - $145
A gentle deep exfoliation treatment using a small diamond tip with a comfortable suction to gently remove dead, flaky, dry skin, leaving your skin feeling smooth fresh and bright. Allows better penetration of cosmeceutical products.
Skin Corrective Facial - $145
Bespoke dermal skin corrective treatments to transform the skin and achieve cell optimisation. Based on medical strength actives, pure, chiral ingredients, biomimetic and encapsulated carriers.
The choice of skin exfoliation will be determined by your therapist after a skin consultation to ensure you receive the correct treatment for your skin.
This treatment offers intense skin changing results, skin youth, health and radiance.
Treatments to support skin health and empower a healthy mind.
Mindfulness Facial - $155
A wholesome skin-mind experience created for skin health and mental wellbeing.An experience guaranteed to leave your skin glowing from within, your mind alive and your being empowered. The first GINGER&ME treatment for all skins and the only one for a one-off game-changing treatment.
Age Defying: A skin-mind anti-aging powerhouse of actives rich in Omega 3&6, antioxidants, vitamins and minerals to boost skin health, protect it from external aggressors, correct and prevent the signs of premature aging whilst empowering a healthy state of mind and attitude.
Brightening: A skin-mind enlightenment; bringing skin and mind clarity to life; prevents skin pigmentation with an immediate brightening gratification; evens out skin tone, gives skin radiance and glow whilst empowering a healthy state of mind and attitude.
Purifying: A skin-mind detox; decongesting, purifying, anti-bacterial and oxygenating for skin clarity, to reduce breakout and rebalance the skin whilst empowering a healthy state of mind and attitude.
Hydrating: A skin-mind moisture explosion guaranteed to calm, soothe and hydrate the skin and mind; plumps and smooths fine lines and wrinkles, supports critical cell-to cell communication whilst empowering a healthy state of mind and attitude.
LED Phototherapy - $80 per session or $50 as an add on with a facial
Light Emitting Diode (LED) is a non invasive treatment that penetrates specific wavelengths of pulsed light energy into the skin to effectively reduce concerns without the usual side effects of other treatments that require down time. First used by NASA as a way to grow plants in space - research showed shining LED's on plants regenerated their cells, further studies confirmed human cells also regenerate in the same way and in fact wounds exposed to LED light heal 4 to 5 times faster than usual.
LED works by giving the cell light energy, much like the process of photosynthesis in plants. In turn providing even ageing cells, the benefit of a fuller cellular metabolism to produce proteins and enzymes essential for building and repairing the skin.
This treatment is great for:
Acne
Rosacea
Psoriasis
Eczema
Lines/wrinkles
Pre and Post peel treatment
Couperose
Oily/Dry
Stretch Marks
Fresh Scarring
Dermapen - Skin Needling - $299
Dermapen® is a registered trademarked device used for a treatment known as 'skin needling' or collagen induction therapy. This treatment is a non-surgical method for tissue rejuvenation and regeneration. Skin needling targets textural changes associated with skin aging and scaring.
DermaPen® is used to treat:
Wrinkling
Acne Scarring
Uneven skin texture
Skin Rejuvenation

and Tightening

Pigmentation
Aging Skin
Hyperpigmentation
Scars (acne, surgical and burns)
Enlarged / Dilated Pores
Vertical Lip Lines
Stretch Marks
---
To achieve optimal results, we recommend a course of treatments along with the use of the correct home care products. If purchased as a program of 6, you will also receive a Salon Gift Voucher to the value of one Facial.
Upgrade available: For an extra $30 you can extend your facial massage time during your treatment with us.
Call our Heathmont salon, to make an appointment today or give your loved one the gift of a facial with a voucher.