Lash serums & COVID-19 in isolation!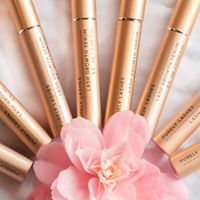 LASH SERUMS!
I don't know about you but I seriously cannot wait to get my lashes back on! It's so true what they say, once you start, it's a hard habit to break because eyes without lashes is like not having the frosting on a cake!
In the meantime, please do your natural lashes a favour and give them some TLC. Purely Lashes lash growth serum is going to provide this.
Four weeks ago I decided to test out the growth serum . This powerful serum speeds up the process to having longer, healthier and more nourished lashes! Usually best results are seen between 6-8 weeks with daily application . Even at 4 weeks of using this product I've noticed a difference. I can actually see my normally fine, short, stumpy lashes! Just add a bit of mascara and 'voila!' I mean they're not yet comparable to my lash extensions but definitely noticeably better than before.
The growth serum has been specifically designed to be eyelash extension-friendly and can even help improve lash retention. So when you're back on the lash extension bandwagon, this product isn't going to go to waste because you can keep using the serum on your lashes .
I know that there's a lot of lash growth serums out there claiming they're the real deal and it gets a little confusing but you can trust Purely Lashes. They're Australian owned, vegan & cruelty-free and the products are packed with quality ingredients to ensure the best results! I promise that you won't regret trying it.
Phea -Beauty Therapist at Heavenly Bliss