The importance of cleansing your skin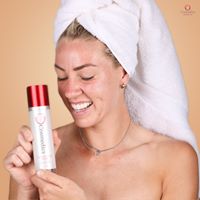 Think of cleansing a little bit like washing your hair, you shampoo the first time to remove the dirt and oil, but the first wash doesn't usually create much of a lather and give a deep cleanse so you do a second wash to get down to your scalp and get a good lather. Its exactly the same for your face, (minus the shampoo!) add a PH balanced cleanser (meaning you don't need a toner, BONUS!) This leaves your skin feeling fresh but also has hydrating ingredients so your skin isn't left feeling dry.
Our top seller at Heavenly Bliss is Gentle Anti Oxidant Cleanser by O Cosmedics it's a must have to complement any skin type and is gentle enough to use as an eye make up remover.Pretty much a non negotiable.
When cleansing try and picture you are buffing off dead skin cells with your finger tips and bringing blood up to the surface to stimulate collagen and elastin (the good stuff) this is exactly why we massage during a facial and the longer you can work your cleanser in (adding water as you go) the better. After at least 60 seconds, rinse off really well with tepid water (never hot)
For the second cleanse you want to focus on any congested areas. Cleanse until those rough/dry/congested areas feel smooth, rinse really well, gently pat dry and follow with your prescribed products
We are always here to answer any questions you may have in the regards to your skin! We love Skin it's our passion!
NOW.. back to cleansing!
So you ask "should I cleanse morning or night?" the answer is BOTH! They are both as important as each other.
Although you won't need to double cleanse in the morning, you still need to cleanse away all the toxins your body has excreted whilst you slept. The products you apply after cleansing have the best chance to absorb and help your make up stay on and even all day.
Night time cleansing, is to remove the days makeup, oil and pollution but it's also to allow yourself a moment to be in the moment, close your eyes, breath in and imagine yourself in the salon wrapped up in a soft blanket having a facial massage and the days stresses are being cleansed away and down the drain, give yourself that moment because you deserve it.