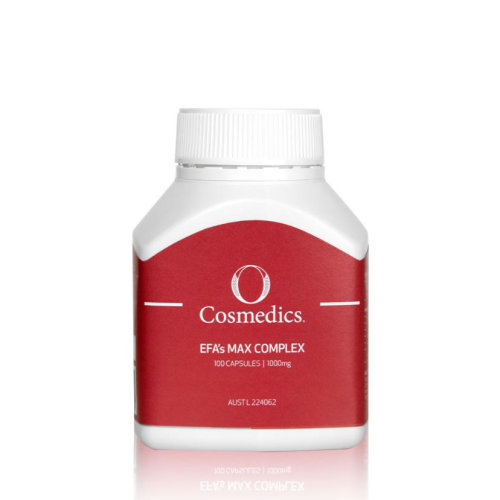 EFA's Max Complex
Existing clients please login to purchase this product.
O EFA's Max Complex is a powerful antioxidant rich in Essential Fatty Acids containing two types of Omega-3 Fatty Acid: DHA (Docosahexaenoic Acid) to assist brain function and EFA (Eicosapentaenoic Acid) for skin health.
Features and Benefits:
Contains natural Essential Fatty Acids such as Omega 3, 6 & 9 and Gamma-Linolenic Acid (GLA) to support healthy skin and hair
Product Description:
Supports healthy blood circulation and flow to the peripheral areas of the body (legs, hands and feet)
Supports the improvement of general well-being
Maintains healthy skin and hair
Maintains healthy cardiovascular system
Quality and potency certified laboratory analysis
Complies with strict Australian Good Manufacturing Practice (GMP) standards
Therapeutic claims based on documented evidence
Key Ingredients
Active Ingredients:
Squalene 1000mg
Fish Oil Natural 1000mg
Cod Liver Oil 20mg
Shark Liver Oil 20mg
Evening Primrose Oil 25mg
Linseed Oil (Flaxseed Oil) 734mg
Natural Vitamins D, A & E
How to Use
Adults take 1-2 capsules a daily or as directed by your health care professional. Use only as directed.
Vitamins can only be of assistance if the dietary vitamin intake is inadequate. If symptoms persist consult your health care professional.