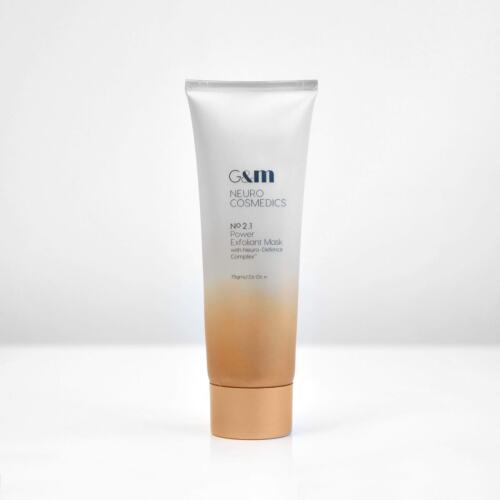 NEUROCOSMEDICS- Power Exfoliant Mask
Existing clients please login to purchase this product.
A gentle 2-IN-1 exfoliator and hydrating mask using Australian Lime Pearls (extracted from the Caviar Lime), Glycolic and Lactic Acid, Natural Bamboo, Olive Seeds and Floraester Beads to exfoliate and hydrate the skin simultaneously.
Gentle on all skin types
Multi-functional
Exfoliant and Mask in one
Exfoliate sensitive skins without massaging the particle
How to use:
For the perfect pick-me-up use like you would an exfoliant. Massage in small circular motions for 2-3 minutes focusing on problem dry areas around the face, neck and décolletage. Leave on the skin, as you would a mask, for 3-5 minutes and then remove with a tepid face wash.
NEURODEFENCE COMPLEXTM – Originates from Brown Algae and is an oligosaccharide that revolutionises skin health by directly targeting the aging of nerve endings to protect a healthy communication between nerves and fibroblasts supporting collage and elastin synthesis; ultimately reducing lines and wrinkles and reducing skin roughness.
Key Ingredients:
VEDERINE® – Derived from chicory; is a restructuring active ingredient rich in oligofructosans which promotes synthesis of Vitamin D and its specific receptor and enables skin to recover optimum epidermal barrier without sun exposure.
PRISTINIZER® – A botanical active known as the "fragrant star" shields the skin and its cells against damage from pollution via antioxidant, anti-inflammatory and detoxifying actions whilst increasing cell survival.
LIME PEARLSTM – A new natural source of AHAs extracted from the precious native Australian caviar lime especially designed to induce gentle skin exfoliation for a smoother, brighter and even skin complexion.
(5%) GLYCOLIC ACID – From sugar cane, is the smallest fruit acid molecule therefore can penetrate deeply to encourage redundant cells to move to the skin surface and slough off.
(3%) LACTIC ACID – A botanical extract used as a gentle and more hydrating fruit acid to stimulate redundant cell turnover.
FLORAESTER BEADS – A Jojoba-derived emollient and is effective even after rinsing in water. It enhances skin hydration with a gentle exfoliating action.
BAMBOO & OLIVE SEEDS – Finely ground; natural and gentle exfoliating particles remove build-up of redundant surface cells.