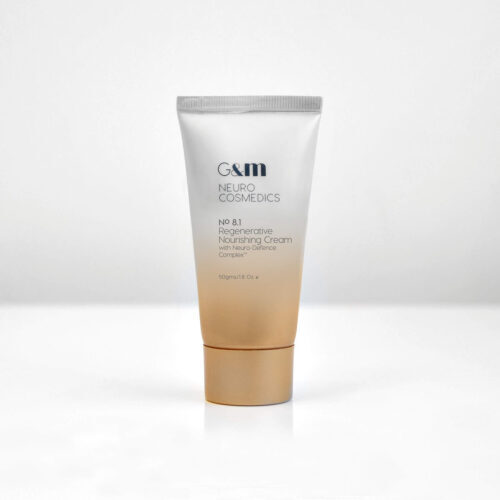 NEUROCOSMEDICS- Regenerative Nourishing Cream
Existing clients please login to purchase this product.
Luxurious and creamy this mega-nourishing emulsion is built on award-winning self-regenerative stem cell technology that thickens the epidermis blurs the appearance of lines and wrinkles promotes collagen synthesis while re-establishing the neuro-cell communication.
How to use:
Massage into face, neck and décolletage morning and night after treatment serum has been absorbed. For best results use with Vitamin Infusion Booster in the morning and Advanced Collagen Booster at night.
Key Ingredients:
NEURODEFENCE COMPLEXTM – Originates from Brown Algae and is an oligosaccharide that revolutionises skin health by directly targeting the aging of nerve endings to protect a healthy communication between nerves and fibroblasts supporting collage and elastin synthesis; ultimately reducing lines and wrinkles and reducing skin roughness.
VEDERINE® – Derived from chicory; is a restructuring active ingredient rich in oligofructosans which promotes synthesis of Vitamin D and its specific receptor and enables skin to recover optimum epidermal barrier without sun exposure.
PRISTINIZER® – A botanical active known as the "fragrant star" shields the skin and its cells against damage from pollution via antioxidant, anti-in ammatory and detoxifying actions whilst increasing cell survival.
SWT-7TM – Extracted from Indian gentian leaves; is a new award winning anti-aging active ingredient targeting self-regenerative stem cell technology. Influenced by the latest discoveries in reconstructive tissue engineering for the treatment of burn injury, SWT-7TM is capable of stimulating keratinocyte proliferation to regenerate thin epidermis and improve the look of aged and wrinkled skin. This never-seen before mechanism of action is based on stem cell science with a cell-to-cell communication between adipose-derived stem cells (ADSC) and keratinocytes through growth factor action. SWT-7TM blurs the appearance of vertical wrinkles in 7 days (and lipstick migration).
INCA INCHI OIL – A native plant found in Peruvian Amazon region. The oil obtained is 100% natural, and is one of the richest natural vegetable sources of omega fatty acids. It contains Omega 3 (48%), Omega 6 (35%), Omega 9 (9%), proteins (33%) and antioxidants (50%). It is also rich in iodine and Vitamin A and E. It supports skin moisturisation, is a powerful antioxidant, is soothing and antiaging.
KAKADU PLUM OIL – Kakadu Plum is an Australian native superfood! Packed full of antioxidants, minerals and vitamins which boasts a super high concentration of Vitamin C and soothing anti-fungal properties.