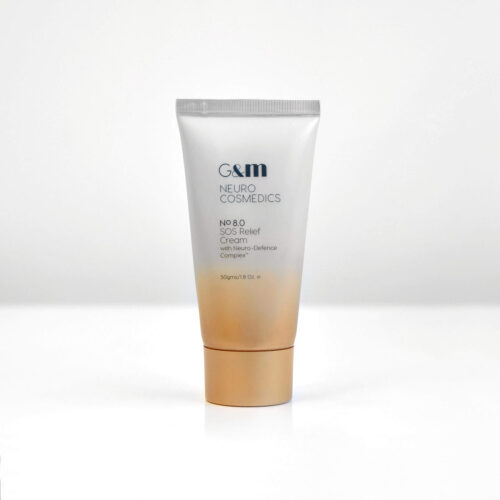 NEUROCOSMEDICS- SOS Relief Cream
Existing clients please login to purchase this product.
Luxurious and creamy this fast absorbing emulsion offers irritated high-color and compromised skins healing and strengthening support anti-irritant benefits calming and soothing properties while re-establishing the neuro-cell communication.
How to use:
Massage into face, neck and décolletage morning and night after treatment serum has been absorbed. For best results use with Vitamin Infusion Booster in the morning and Advanced Collagen Booster at night.
Key Ingredients:
NEURODEFENCE COMPLEXTM – Originates from Brown Algae and is an oligosaccharide that revolutionises skin health by directly targeting the aging of nerve endings to protect a healthy communication between nerves and fibroblasts supporting collage and elastin synthesis; ultimately reducing lines and wrinkles and reducing skin roughness.
VEDERINE® – Derived from chicory; is a restructuring active ingredient rich in oligofructosans which promotes synthesis of Vitamin D and its specific receptor and enables skin to recover optimum epidermal barrier without sun exposure.
PRISTINIZER® – A botanical active known as the "fragrant star" shields the skin and its cells against damage from pollution via antioxidant, anti-inflammatory and detoxifying actions whilst increasing cell survival.
TOCOPHERYL ACETATE – A form of Vitamin E, a natural skin-conditioning agent and antioxidant.
CALM DE AGE® – Derived from palm date seeds acts to slow down cell proliferation, supports anti-aging and vasoconstriction (giving rosacea relief and dark circle reduction), significantly reduces skin irritation and is a powerful antioxidant.
SYMGLUCAN – Naturally derived from oats, promotes healing, stimulates fibroblast growth and collagen synthesis, protects skin cells against UV radiation, is an excellent moisturiser and stimulates immune defense.
GAPTURE® – An extract of the jojoba leaf used to improve the skin structure, skin cohesion, tension barrier functions, reduce water loss, improve and restore skin integrity health and vital appearance.