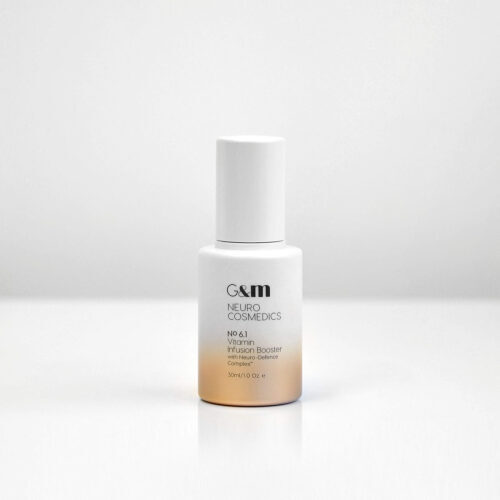 NEUROCOSMEDICS- Vitamin Infusion Booster
Existing clients please login to purchase this product.
Vitamins A C D E & F work synergistically to support skin brightening collagen synthesis and antioxidant protection to prevent cellular aging.
A multi skin vitamin in one
Requires no layering
Is a concentrated Vitamin C booster
Offers skin brightening and super antioxidant protection
How to use:
Use freely throughout the day. Best after a shower or bath; towel off and massage gently into the skin. Be sure not to over rub.
Key Ingredients:
NEURODEFENCE COMPLEXTM – Originates from Brown Algae and is an oligosaccharide that revolutionises skin health by directly targeting the aging of nerve endings to protect a healthy communication between nerves and fibroblasts supporting collage and elastin synthesis; ultimately reducing lines and wrinkles and reducing skin roughness.
VEDERINE® – A restructuring active ingredient derived from chicory, rich in oligofructosans which promotes synthesis of Vitamin D and its specific receptor and enables skin to recover optimum epidermal barrier without sun exposure.
PRISTINIZER® – A botanical active known as the "fragrant star" shields the skin and its cells against damage from pollution via antioxidant, anti-inflammatory and detoxifying actions whilst increasing cell survival.
GLYCERYL ASCORBATE (VIT C) – A novel moisturising Vitamin C derivative produced by binding glycerin to Vitamin C; classified as a humectant antioxidant with traditional Vitamin C benefits.
ASCORBYL TETRAISOPALMITATE – An oil formula in combination with Vitamin F, also known as essential fatty acids. Aside from the general benefits of pure Vitamin C, it has been shown to have specific skin brightening benefits.
(0.25%) RETINOL – A gentle Vitamin A introduction to skins new to Retinol, it gently exfoliates and encourages redundant cell turnover.
TOCOPHERYL ACETATE – A form of Vitamin E, a natural skin-conditioning agent and antioxidant.