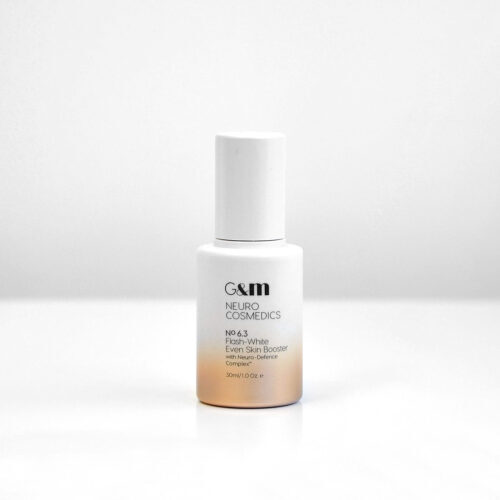 NEUROCOSMEDICS- Flash White Even Skin Booster
Existing clients please login to purchase this product.
Combines a leave-on exfoliation a new generation pigment regulator and a flash action this even skin tone serum promotes skin brightening and reduces pigmented spots.
Gentle on all skin types
Recommended as a tyrosinase inhibiter before skin treatments
Works on the surface to lighten
Also works skin deep to prevent further discolouration
A hybrid product, offering immediate skin whitening and skin correction in one
How to use:
Apply onto a cleansed and dry face, neck and décolletage morning and night. For best results follow with AAA & Brightening Cream.
Key Ingredients:
NEURODEFENCE COMPLEXTM – Originates from Brown Algae and is an oligosaccharide that revolutionises skin health by directly targeting the aging of nerve endings to protect a healthy communication between nerves and fibroblasts supporting collage and elastin synthesis; ultimately reducing lines and wrinkles and reducing skin roughness.
VEDERINE® – Derived from chicory; is a restructuring active ingredient rich in oligofructosans which promotes synthesis of Vitamin D and its specific receptor and enables skin to recover optimum epidermal barrier without sun exposure.
PRISTINIZER® – A botanical active known as the "fragrant star" shields the skin and its cells against damage from pollution via antioxidant, anti-inflammatory and detoxifying actions whilst increasing cell survival.
BIOGOMMAGE® – The first biodegradable skin exfoliating particles using safe-scrub technology which acts as a "smart sensor" which means if you rub too hard on the skin particles start dissolving ensuring a gentle exfoliation function (resulting in uniform exfoliation without irritation).
BRIGHTENYL® – A new generation skin melanoregulator which acts as a natural anti- inflammatory tyrosinase inhibiter with an instant antioxidant effect to give the skin a brighter tone, lighten skin discolouration, decrease redness, even skin tone and correct of pigment disorders
FLASHWHITE SPHERES® – Instant white filter; delivery of natural brightening extracts (Vitamin C-rich), Cucumber and Lemon.